We are a state-of-the-art medical detox facility and residential drug and alcohol rehab center. Florida is our home, and we think you'll appreciate the pristine beauty of our location. Our facility features 21,000 sq ft of fully renovated space. The building is located on 8.4 acres, surrounded by nature and peace with beautiful views of the lake. You might say, "recovery comes naturally when you're here."

Located in Crescent City, Florida on beautiful Crescent Lake, St. John's Recovery Place is a place of solace and retreat for those suffering from addiction & co-occurring mental health conditions. It's not just our location, or our unique ability to treat co-occurring disorders that makes SJRP so special. Our comprehensive treatment programs address the needs of the whole person - body, mind and spirit. Clients come to heal from a variety of substance use disorder & dual diagnosis issues, but while they're here they find the courage & strength for positive change amidst Florida's natural beauty.
Our Story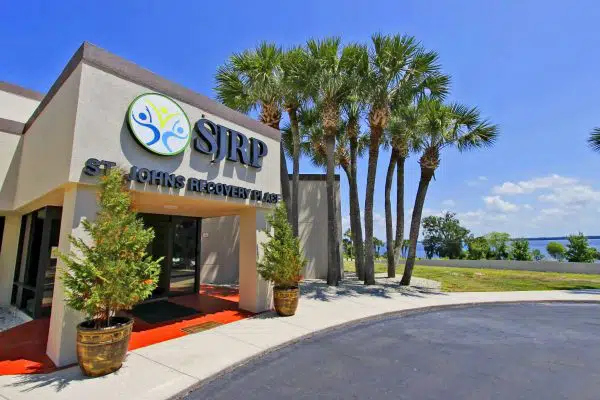 In the early stages of developing St John's Recovery Place, we put a lot of thought into the location and the environment in which we thought would be most beneficial. Our qualified professionals have years of experience in the addiction treatment field and have seen first hand the dos and don'ts of the Florida drug and alcohol rehab industry. Starting fresh we knew that we wanted to separate ourselves from the pack and truly make a difference in the lives of people suffering from drug and alcohol addiction.
We found an amazingly beautiful part of Florida in Crescent City along the St. John's River. After laying out our goal and long-term vision for what we wanted our treatment to stand for, we knew that we found the perfect place. St. John's Recovery Place sits on 8 acres of beautiful vegetation and is surrounded by peaceful trees and wild flowers. Crescent City, is a small town with less than 2,000 people populating the area and is nestled between two beautiful lakes in rural, and undeveloped, untouched Florida.
From cities throughout the country with an overwhelming amount of buildings stacked on top of each other, tons of lights and loud street corners, to a safe, quiet and private facility in the middle of Central Florida. We have found a treatment sanctuary, ideal for a recovering environment. It may sound a bit cliché, but even the air is fresher and the stars are brighter here.
We use a holistic approach to substance abuse and treatment that combines various conventional therapy programs and modalities with individualized approaches to care that allow us to help clients take control of their lives. Regardless of what you've been through in the past, our Florida drug and alcohol rehab program will help you fight the good fight and win your battle against addiction. We realize that each client is faced with a set of unique circumstances that play a key role in their substance abuse as well as in recovery. That's why we provide individualized treatment for each person that walks through our admissions doors. We want you to recover and are willing to go the extra mile to make sure you reach your recovery goals while you're here.
What Our Clients Say About Us
Don't just take our word for it, read what others say about our Florida rehab program! Whether speaking to past clients, current inpatient residents, staff members, or other businesses and their professionals, SJRP Florida drug rehab has received praise and glowing reviews from almost everyone they encounter.