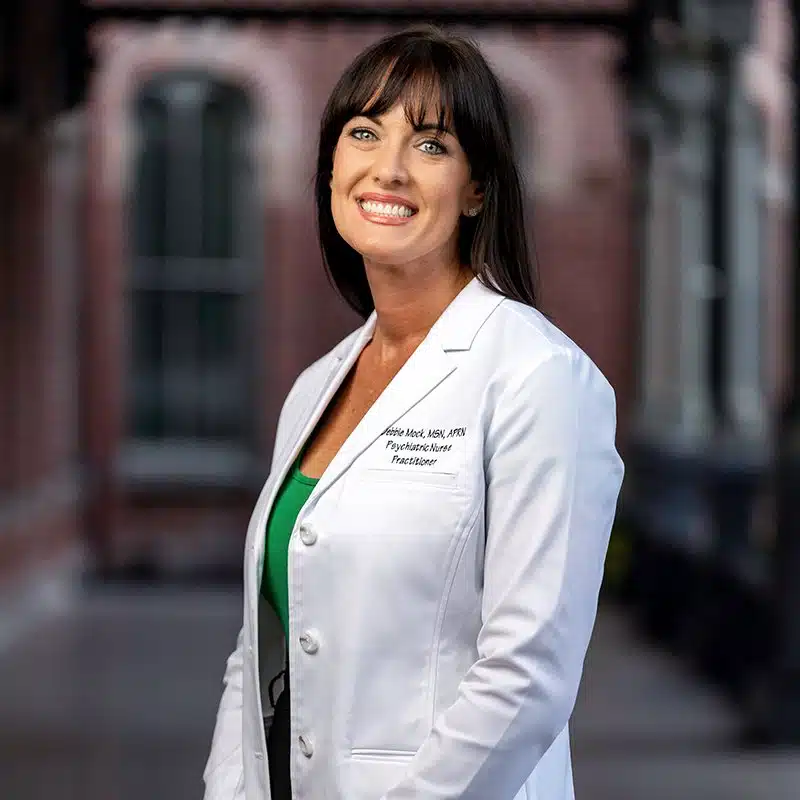 Deborah Mock
MSN, APRN, PMHNP-BC, CARN
Debbie Mock is a board certified Psychiatric Mental Health Nurse Practitioner with over a decade of experience working in behavioral health and addictions. She received her Master of Science in Nursing from Wilkes University in Wilkes-Barre, Pennsylvania. She chose psychiatry nursing after experiencing psychiatric illness and addiction with a family member. She wanted to bring an empathetic and understanding approach to the field by providing a more compassionate patient and family-centered experience. One of her personal philosophies is to treat every patient as she would desire her family member to be treated.
Debbie has also had great success in the administrative roles of healthcare leading accreditation surveys, department of health inspections, and state audits. Her psychiatric nursing experience began in a residential addictions' treatment program managing the daily healthcare needs of her patients. She later moved into an administrative role managing inpatient detoxification programs, opioid treatment programs, residential treatment programs, and intensive outpatient programs. She returned to the direct care role after years in administration and realized she missed the direct care role which led her to pursuing her master's in nursing.
A general day for Debbie consists of assessing, diagnosing, and educating patients on their healthcare diagnosis. One of Debbie's main goals when meeting new patients is to establish a strong therapeutic alliance that allows her and her patient to establish a treatment plan that will be successful. Although Debbie can prescribe medications, this does not remain her top priority, she approaches care by listening and educating patients on their diagnosis and the various interventions available. She is a firm believer that her patients understand why they are prescribed medications while understanding the benefits as well as possible side effects.
In a world full of stigma surrounding mental health illness and addiction, Debbie remains compassionate to the individual needs of her patients. From her love for the healthcare profession, to her empathetic nature, she remains steadfast in her abilities and passion for the needs of her patients. Her ability to embrace change and find knowledge in yet to be charted waters is one of her unique qualities. Strong communication skills and a kind approach has been Debbie's assets in her lifelong career dedicated to the service of others.