Explore Art Therapy for Addiction at SJRP FL Rehab Center
The healing power of self-expression has helped people for thousands of years and continues to play an essential role in addiction treatment and recovery. The art therapy program at St. John's Recovery Place isn't just for "masters" or "artists" – in fact, most of us are far from what we would consider the "Van Gogh's" of our time, but channeling our inner artist evokes a sense of comfort, healing and strength that no other form of therapy quite can.
Art therapy is a powerful arena for self-expression. The evolution of art therapy is seemingly proving to be an essential part of treatment that has been evolving since early use in addiction treatment in the 1950s. Often times art therapy is misjudged to be beneficial for only creative-like people. We have found this to be far from the truth. Not only does art therapy provide a unique starting point for non-verbal communication of deep inner emotions, it is also a great stress and anxiety reliever.
Discover the joy of art therapy. Florida rehab programs like those offered at SJRP guide both individual and group healing sessions with a diverse range of therapies. We're sure you will find something to love about the art therapy program for addiction recovery at our Florida rehab center, but if art isn't your thing, don't worry! We have plenty of other therapy programs to help residents heal from deeply rooted trauma and pain that is often present with SUD.
"This is the power of art: The power to transcend our own self-interest, our solipsistic zoom-lens on life, and relate to the world and each other with more integrity, more curiosity, more wholeheartedness."
-Greek philosopher Aristophanes
A Little Creativity Goes a Long Way in Recovery
At SJRP we believe that art therapy is beneficial for everyone. And while we believe that everyone has creativity within them, we understand that not everyone is artistic. From stick figures to canvas art, art therapy for addiction allows clients to express their past, and explore the future. In the art therapy room, there are no right or wrong ways to express yourself – choose painting, sculpture, music-making, dancing, or another craft.
Art therapy has proven to be beneficial for veterans suffering from PTSD and depression. Veterans with PTSD suffer similar symptoms of those struggling with drug and alcohol addiction. Studies have shown reduced symptoms and higher levels of self-control even after only a couple of sessions.

"Art is not a thing… it is a way."
Types of Art Therapy for Addiction
The use of creativity to express your imagination or underlying emotions in a healthy way is a concept that we have to re-learn in recovery. Art therapy provides a safe, anything goes, opportunity for you to expand your communication to connect with emotions or underlying feelings. People can express themselves in a variety of ways, particularly, art therapy for addiction is generally in the form of:
Visual art – painting, sculpting, drawing, coloring, etc.
Performance art – dancing, singing, music-making, acting, etc.
Applied art – cooking, sewing, woodworking, jewelry making, etc.
Literary art – creative writing, journaling, poetry, etc.
The type of art therapy that applies most to you and your recovery will depend on your own personal creative desires, but don't be afraid to try something new while you're here! Some of the best ways to relieve stress and anxiety come not from repeating our actions, but from finding new activities that we grow to love.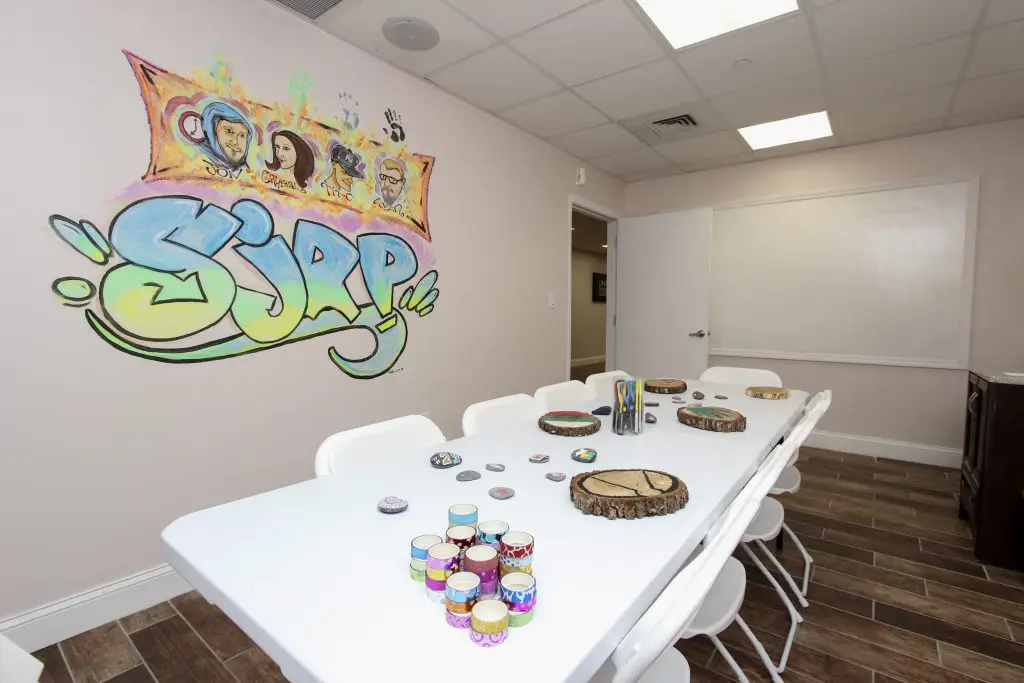 How Art in Recovery Heals Past Trauma & Pain
The creation of art is a nonverbal process that expands our ability to communicate through the exploration of our inner emotions and feelings. Art therapy is often useful when a client has a past history of abuse, which is also a common underlying cause of substance abuse and addiction. You may not feel comfortable talking about a particular event or feeling that you have about the abuse that you endured, but you're able to convey the emotion through your art. This opens opportunities to explore and begin to resolve the issues surrounding the abuse before you are able to appropriately express the strong emotions surrounding the traumatic experience.
The use of art to express yourself and explore various aspects of your life is a vital element of the healing and addiction recovery process.  Our FL rehab center uses art therapy in conjunction with various forms of traditional therapy to provide you with the communication tools you need for a successful recovery. Whether in a group setting, or on your own time, the art therapy room is almost always open for you to channel your inner artist, explore those deeply rooted emotions and feelings, and start communicating in a healthy way.
Experience Real Recovery.
We treat a wide range of addiction and behavioral health conditions including dual diagnosis, drug addiction and alcoholism. We accept most insurance carriers.
Call or text us today!