Holistic Recovery Programs
Holistic drug and alcohol rehab programs offer extremely effective therapy that is designed to increase recovery rates by providing whole system healing, mind, body, and spirit, for total wellness & lasting recovery. At St. John's Recovery Place, our holistic rehab center focuses treatment for your drug or alcohol addiction on healing the WHOLE you. Every facet of therapy and guidance is centered around healing the psychological, physical, spiritual, and emotional elements of your life when you attend our holistic rehab. Florida addiction recovery programs, including the holistic therapy provided at SJRP, offer many evidence-based treatment options available to help you, or your loved one, overcome addiction. We look forward to helping you heal.
Holistic rehab centers like St. John's Recovery Place holistic alcohol rehab, in Florida, deliver a multifaceted approach to recovery and healing with a focus on integrating spiritual healing with physical and mental healing. No two holistic recovery programs are the same at our holistic addiction and recovery center as we do not believe in a one-size-fits-all, cookie-cutter, approach to treating addiction to drugs or alcohol. Recognizing that all clients come from very unique backgrounds, with varying circumstances that led to substance abuse and which continue to contribute to addiction, we treat the disease, not only the underlying symptoms at our holistic drug rehab. Florida is a wonderful place for healing, and St. John's Recovery Place is one of the most inviting holistic rehab centers the east coast has to offer. But don't take our word for it, see for yourself.
What is Holistic Rehab?
The concept behind holistic rehab, which has many of the same healing methods as physical and medically assisted rehab, is to get the client to realize their full potential and talents, outside of their past addiction., and to overcome the physical, mental, and spiritual roadblocks that impede addiction recovery.
At our holistic rehab center clients embark on a healing journey that includes several different opportunities to heal the mind, body, and spirit. Whether it's time spent in our neurointegration program where the brain is "rewired" for healing, or you're with our massage therapist to relieve stress and deep tissue related pain, a mix of traditional therapies as well as complementary holistic therapies consistently deliver total body and mind wellness while you're working our holistic recovery program.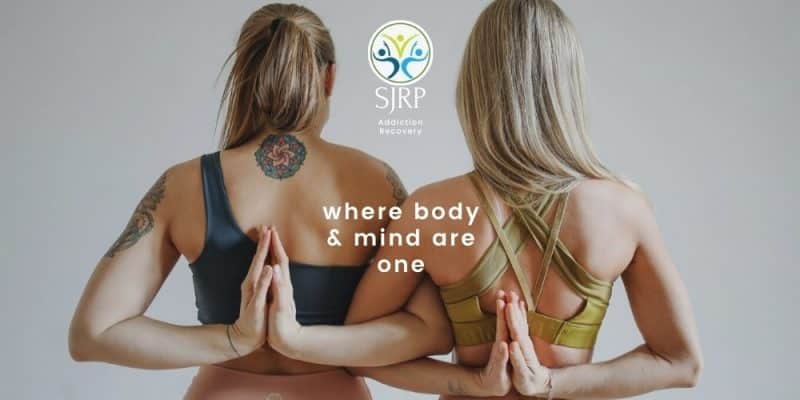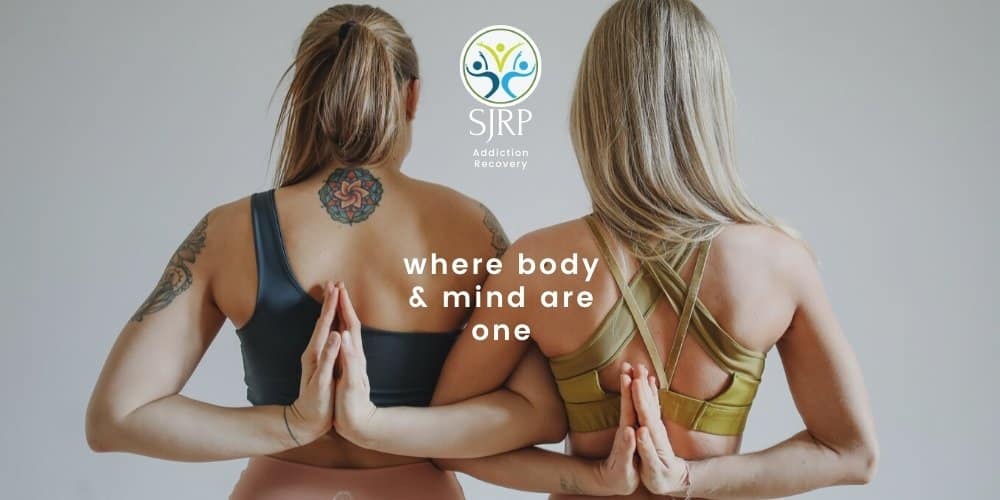 You'll experience a diverse set of holistic healing modalities at our center. Holistic drug and alcohol rehab works to build on philosophical and existential theories for life and healing, including a focus on:
The quality of life theory
The theory of personal character
The theory of life missions or purpose
The talent theory
Various other holistic process theories that put the focus of recovery into rehabilitating the character of a person, and their power for change and character growth as an individual are also wrapped into holistic healing. At St. John's Recovery Place drug and alcohol detox, we provide the following holistic therapy opportunities and complementary treatments:
Adventure Therapy
Yoga & Exercise
Guided Meditation
Spiritual Therapy
Animal Assisted Therapy
Our Holistic rehab is dedicated to healing the entire person spiritually, mentally, physically. The main goal is to achieve optimal health and wellness in all aspects of yourself in holistic rehabilitation. Florida Holistic therapy, and holistic rehab centers like SJRP, work in conjunction with traditional theory methods and treatment modalities, and are not meant to be used alone with the exception of some forms of recovery. Individual holistic rehab methods can be found and participated in outside of treatment if you wish to continue such treatment protocols when you finish your rehab program. Talk with your case manager at SJRP to learn more about extending your holistic recovery programs to your outpatient program for continued total mind and body healing.
Are Holistic Drug Detox Centers the
Same?
You might be wondering if holistic drug detox centers represent the same form of mind, body, soul recovery as is mentioned when discussing holistic drug rehab. Florida holistic rehabilitation programs that provide both inpatient detox and residential treatment for substance use disorder or addiction generally function similarly in scope whether they are providing detoxification and stabilization services, or just therapeutic treatment services that are representative of those necessary for rehabilitation. Essentially, both holistic treatment programs, holistic drug detox centers and holistic rehab centers, are the same.
At St. John's recovery Place, holistic recovery is represented in our treatment protocols and actions both with our alcohol and drug detox services as well as with our residential rehabilitation services. When you begin to receive treatment you will quickly notice that the entire scope of focus is on holistic rehabilitation. Florida is a pristine location for holistic treatment, both for detox and for ongoing rehabilitation. When you attend our program you will embark on a healing journey where your mind, body, and soul can be refreshed and rejuvenated, cleansed from addiction and the underlying struggles that make recovery so difficult to achieve.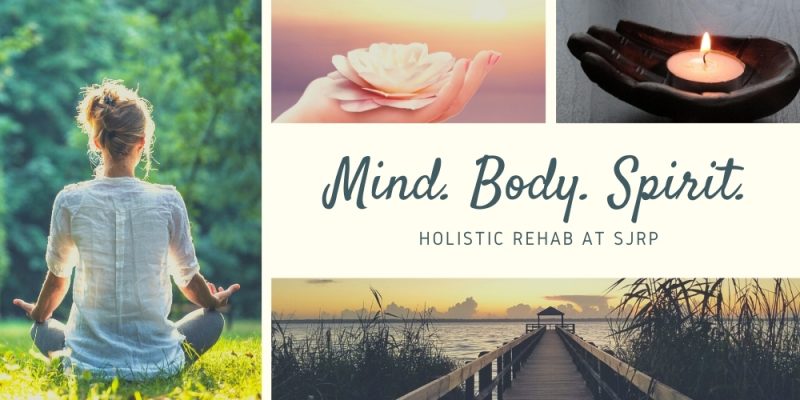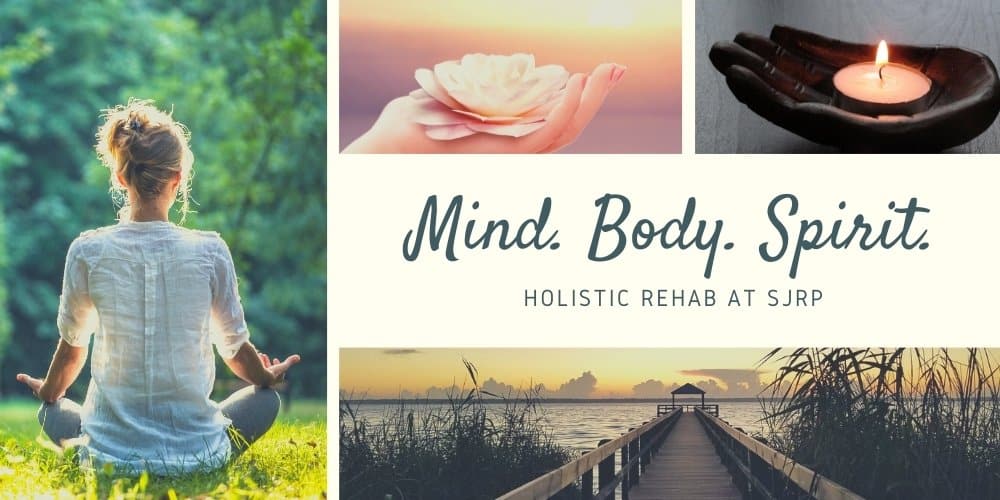 It is important that St. John's Recovery Place is not mistaken for providing the same form of care that is often provided by other holistic drug detox centers. We often see clients that come to us with a sour taste or poor representation of holistic recovery. They've been to other holistic drug detox centers or they've bounced around through various holistic rehab centers along the east coast and they know what they do NOT want to be a part of in recovery. They know firsthand what it's like to be treated poorly. Left to suffer. Told to "deal" with withdrawal symptoms, with very little if any real relief or comfort medications provided. This is NOT what we consider a "holistic" drug detox, and we hope that you'll give St. John's Recovery Place a chance to prove to you that recovery CAN happen without unnecessary pain and suffering.
St. John's Recovery Place is a holistic rehab center that also provides a wide range of detoxification services aimed at helping clients achieve optimal balance and strength during detox so that they can succeed in recovery. If you're worried about the next steps, or unsure whether holistic detox is right for you, please call our admissions team at 833-397-3422 to discuss your treatment options. If you learn only one thing in recovery, it should be that St. John's Recovery Place is NOTHING like those other holistic drug detox centers that you've heard about and you will NOT have to suffer under our care!
Types of Holistic Therapy for Addiction Recovery
A holistic approach to therapy is not considered a mainstream form of medicinal treatment. Instead, holistic healing therapies are referred to as complementary, integrative, or alternative medicines. Many Americans make use of holistic therapy, in conjunction with traditional medicine, in order to achieve and maintain better overall health. Try discussing various holistic therapy techniques that are of interest to you with a doctor or healthcare provider before engaging in any complementary services. This way you can make sure participation in a complementary treatment will not aggravate your condition or make treatment unnecessarily difficult for you. Generally, holistic therapy is a great addition to a treatment program, and comes with many different forms of treatment to try out, including (but not limited to):
Yoga
Acupuncture
Reiki
Aromatherapy
Naturopathy
Homeopathy
Herbal medicine
Mindful meditation
Massage

Massage Therapy
Holistic massage therapy is a type of massage therapy used to help manage a health condition, and enhance wellness. Typically, massage therapy is used to relieve bodily pain in a patient, due to disease or injury, by manipulating the muscle and soft tissues to release tension and increase mobility. Yet, since massage has been practiced for hundreds of years all around the world, there tend to be different techniques and types that allow for different focuses and health benefits.
Holistic massage therapy focuses on bringing both physical and mental relief to a patient. Holistic massage benefits may include:
Pain relief
Increase in mobility
Relaxation
Mental relief
Increase in energy
St. John's Recovery Place (SJRP), a holistic treatment center in Florida, offers holistic massage therapy to help you feel better in mind, body, and spirit. Our holistic massage therapy program is made to help you feel more balanced and less stressed as a whole.
Nutritional Therapy
Medical nutritional therapy, or nutritional therapy, represents another form of care at our holistic treatment center. Florida clients receive medical nutritional therapy as a complementary treatment that is completely based on your nutrition, what you eat, and what your personal goals are. By paying close attention to what you eat, checking on your nutrition status outside of treatment, and making sure you get the right types of food to promote overall health and wellness, participation in the medical nutritional therapy program provided at SJRP can help you to achieve advancements in your physical health, energy levels, and overall mood. Medical nutritional therapy typically follows these guidelines:
Avoid processed foods and anti-nutrients
Eat only whole foods

Raw vegetables
Raw fruits
Beans
Legumes
Unprocessed foods
Raw seeds
Raw nuts
Whole grains
Free-range animal byproducts
Grass-fed animal byproducts
Organic animal products
Wild-caught fish

Eat a variety of whole foods, without as much attention given to calorie intake
Make dietary changes as need be, to help achieve the overall health goals and needs of the individual
Typically, medical nutritional therapies are used to help treat people with diseases such as heart disease, diabetes, cancer, or who are severely overweight and trying to become healthier. Nutrition based therapy for drug addiction recovery at St. John's Recovery Place helps clients to build a healthier lifestyle by providing them with the tools they need to stay busy, maintain abstinence, and live a healthier life.
Nutrition based therapy for drug addiction recovery may also be necessary to help those in recovery to rebuild their bodies after suffering malnutrition, as a result of severe drug or alcohol abuse, and poor eating habits. Poor nutrition severely impacts both the way the body operates, and the way the mind operates. To leave a malnutrition standard unaddressed can result in serious mental and physical issues. At SJRP we believe that nutrition should be addressed upon intake. And healthy, hearty meals are provided to clients as soon as they enter our holistic rehab center.
Guided Meditation & Breathwork
Another complementary therapy provided at St. John's Recovery Place is holistic healing meditation. Meditation is a holistic practice that calls both the mind and body to peaceful action. The goal of holistic healing meditation is to help clients improve their psychological balance, by meditating consciously to increase calmness, and to promote physical relaxation. It has been observed that throughout the time a person is meditating, accumulated stresses are released slowly, energy levels increase, a sense of calm is rendered, and the overall health and mood of the client is improved. The general process of holistic healing meditation is thought of as an exercise of the consciousness, that leads to an expansion of consciousness that brings unity to the mind and body. Strengthening both the mind and body will release stress and help to increase creativity and efficiency.
Guided meditation in the U.S. has been gaining popularity in recent years for these reasons. Meditation for addiction recovery is used in very similar ways. The goal of guided meditation for addiction is to first teach patients how to balance themselves, without the use of drugs or other outside substances. Meditation for addiction recovery is also used to teach clients how to relax in high-stress situations, or how to relax when they are feeling overwhelmed and disjointed, to promote stronger ability to cope with triggers that could otherwise lead to substance abuse or relapse.
There are many ways to initiate meditation – some of which include exercise and various breathing techniques. Breathwork, a form of meditation for addiction therapy, helps individuals to relax. Guided breathing, while focusing on general anxiety, cognitive functioning, and heart rate has the ability to increase overall wellbeing. Breathing techniques come with a variety of names, techniques and guides including:
Diaphragmatic breathing
Abdominal breathing
Belly breathing
Paced respiration
Guided meditation for addiction, such as breathwork, works to combat a person's flight or fight response, helping them to calm down by focusing on the way they are breathing, and slowly working to relax different muscle groups over time. There are many ways to practice breathwork for relaxation and to minimize stress. It is recommended that clients practice these techniques at least once or twice daily, after guided meditation practice. This way, they can use the breathing techniques to help calm themselves outside of the facility when faced with high-stress situations, thus generating a grounding routine for themselves in recovery. To understand meditation and breathwork fully, substantial research is needed, however the overall goal of all techniques is to achieve inner balance.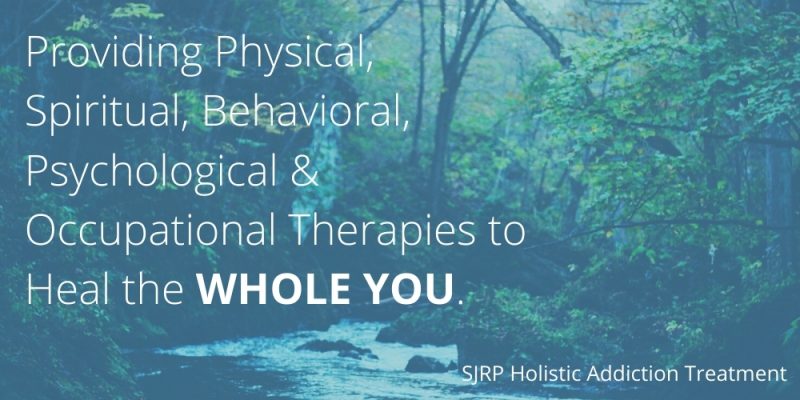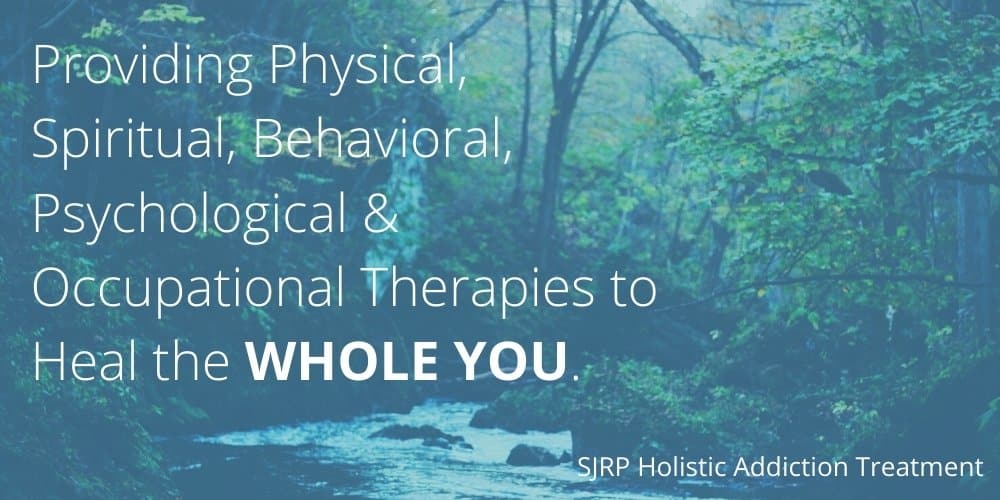 Yoga & Exercise
Yoga for addiction treatment is another complementary therapy offered at SJRP in our holistic rehab center in Florida. Yoga, like meditation, is an age-old, complex practice, designed to promote physical and mental well-being. The process of holistic healing yoga aims to connect the body, breath, and mind using physical forms (stretches and postures & breathing exercises) and sometimes different forms of mental meditation. Like nutrition and meditation, yoga has a variety of benefits for the people who practice it including:
Improving posture
Improving flexibility
Improving overall fitness
Reduce stress
Boots self-confidence
Helps people relax
Lower heart rate
Lower blood pressure
Improve coordination
Improve concentration
Aids digestion
Helps people sleep better
Reduces back pain
Manages anxiety
Manages depression
Relieves menopause symptoms
Aids people in quitting smoking
Manages post-traumatic stress disorder (PTSD)
Manages chronic illness symptoms
Improves balance
Relieves neck pain
Helps people lose weight
General exercise and yoga for addiction recovery have been known to also promote balance in patients undergoing recovery treatment. Clients receiving treatment for substance abuse have admitted that yoga for addiction treatment has helped them manage their personal stress levels better, and cope with their new surroundings while learning new self-regulation skills. Overall the purpose of yoga in addiction recovery is to help patients feel better in mind and body, and for most individuals, it does just that.
Spiritual Therapy
Spiritual healing therapy, or reiki, is a form of alternative treatment therapy also known as energy healing. This type of spiritual healing therapy is controversial in nature, as there is little scientific evidence to support its effectiveness, but some clients benefit from the process of this therapy nonetheless.
Spiritual healing therapy is a complex intervention process that aims to enhance the overall feeling of wholeness in an individual. Energy healing also has many different names, methods, and processes, but the overall goal is to achieve a sense of wholeness within the individual. Most spiritual healing methods and processes make an assumption towards greater healing energy in the world, which could be a spirit or entity outside the forces of normal understanding such as a Higher Power, Divinity, or higher sense of virtue.
Spiritual therapy for depression quite typically results in speaking of this or these higher powers and largely depends on compassionate caregivers and spiritual education for its implementation. Research shows that spiritual therapy for addiction has played a great role in decreasing substance use severity, and has helped individuals remain abstinent, sticking with the particulars of their recovery program. Key beliefs to this spiritual worldview and healing process include:
The belief in the existence of a universal life force or energy flowing through all beings.
The belief in a subtle energy system of biofield that interprets the physical anatomy of the human body and everything that surrounds it.
The belief that in ill health, the human energy field is out of balance, or blocked, and thus that the natural healing capabilities of the human body are diminished.
The belief that the practitioner can detect abnormalities in the individual's energy field before problems begin to physically manifest.
The belief that the practitioner's healing intent and compassion are essential to the overall healing process.
The assertion that healing is not an outcome dependent on the client's personal beliefs.
Experiential Therapy at SJRP Holistic Rehab Center
Experiential therapy focuses on the capability and capacity of individual people to have self-awareness and exercise personal choice. Experiential addiction therapy in Orlando Florida, and other major cities, typically focuses on the individual and family dynamic, where therapeutic activities are aimed at rebuilding familial relationships and supporting the family as a whole.
Experiential therapy works to move families and individuals away from toxic behavior patterns together so that everyone grows away from their old habits together, and they learn new, healthier ways to communicate with one another through group activities administered by a licensed therapist. The therapist works to encourage them to learn from one another, and support each other to grow emotionally and mentally in the team-building exercises.
Typical experiential therapy activities at SJRP include (but are not limited to):
Challenging patients and family members to contemplate their life choices.
Challenging individuals and family members to discuss, contemplate, and take responsibility for, their own personal actions, and their actions within the family dynamic.
Challenging family members and individuals to try and understand the actions of other family members.
Equine Therapy for Addiction
A form of experiential therapy that gives clients an opportunity to be responsible for the care of something other than themselves, is the equine therapy for addiction treatment at St. John's Recovery Place holistic alcohol rehab. Florida equine therapy for addiction at SJRP can help treat many disorders, including anxiety & depression, which are common side effects of addiction. Equine-assisted therapy incorporates experiential activities from a traditional therapeutic standpoint, adding along with the aid of horses. Equine therapy for drug addiction at SJRP gives clients a break from their normal treatment patterns, while working with, and riding the horses offers a whole new social construction framework for them to explore.
Equine therapy in Florida involves working with licensed stables, horses, and handlers, in order to cultivate a working program pattern that benefits recovering individuals in a safe, worth-while manner. Working with the horses has a fast-acting effect, typically enhancing the individual's moods extensively quite early on. It is even common for families to notice sizable, positive mood changes in clients sometimes as early as the third equine therapy session.
Art Therapy for Addiction
Art therapy for addiction is another alternative complementary therapy service utilized in substance abuse treatment programs. Art therapy and addiction recovery are relatively new partners, but art therapy in Florida may be gaining popularity as the process works to empower the emotional and creative capabilities of individuals participating in the program. But, does it really work?
A study conducted from 2000 to 2017 seems to think so, as it compared the evidence of 17 different starting articles combined, and worked outwards, ultimately determining that art therapy and addiction recovery worked well together. Art therapy for addiction helps individuals express emotions they may not be comfortable with talking about, helps them release stress, and improves overall mood as individuals learn and practice new skills and self-expression outlets.
Art therapy allows patients a moment to escape their everyday lives, and experience something fun that they can be proud of, as they create with their own hands and minds. It is also commonly thought that the use of art therapy for addiction recovery allows past substance abusers to deal with their past choices and come to terms with their negative self-image, denial, and or shame. This way, they can continue making strong steps towards recovery, and not harbor negative thoughts.
Adventure Therapy for Addiction
Adventure therapy programs focus on using the natural environment to help substance abuse patients cope with and overcome cognitive, behavioral, social, and affective disorders, as they work towards recovery. SJRP provides a large range of adventure therapy programs as well, to ensure clients do not grow bored with the program. These programs offer a variety of new experiences or learning opportunities to choose from. Adventure therapy programs may include (but are not limited to):
Cooperative (team building) activities and games
Wilderness excursions such as boating, hiking, and swimming.
Ropes courses (high and low)
Problem-solving activities
Trust building activities
Outdoor activities including kayaking, horseback riding, and rock climbing
Adventure therapy for addiction recovery is highly beneficial for clients. And adventure therapy benefits typically revolve around improvements both to the mental and physical conditions of clients who took the time to spend time outdoors. Additional adventure therapy benefits may include:
Boost in self-confidence.
Boost in positive communication between individuals and partners.
Boost in positive, productive conflict resolution.
Boosts in individuals expressing feelings in a positive and fruitful manner.
Increased participation in activities.
Increase in physical activity.
Overall betterment of general physical and mental health.
How Holistic Rehab Programs Work
Holistic drug rehab programs feature a lot of great options and potential benefits. These features that holistic alcohol and drug rehab complementary services include, are made in addition to traditional inpatient and outpatient treatment programs. Clients in either an outpatient, or inpatient, a substance abuse recovery program can discuss the use of any of these alternative treatments during their time in a holistic recovery program.
Holistic rehab in Florida at SJRP may include variations of any and all of these therapies, as well as other alternative therapies that are not listed here. Clients may make use of multiple complementary or alternative holistic drug rehab programs during their time at SJRP. The therapies that you participate in will depend on your individual needs and the unique treatment plan that is designed to assist you in total body healing and recovery from addiction.
Choosing a Holistic Drug & Alcohol Rehab for Your Recovery
There are plenty of options for holistic rehabilitation. Florida programs for holistic recovery at SJRP range from simple Yoga and exercise sessions, to advanced neuro-integration therapy, which delivers powerful healing for the brain, reducing symptoms of withdrawal and significantly improving recovery and healing times. Holistic rehab in Florida, like in any other state, is one of many complementary or alternative therapeutic services to be used in conjunction with traditional inpatient or outpatient recovery programs. Not anyone holistic rehab center is the same as the other, and it is important for patients and family members to do thorough research on the facility of their choice. To learn more about the holistic rehab programs provided at SJRP, call our admissions department at 833-397-3422. We look forward to helping you, or your loved one, overcome addiction and heal the mind, body and spirit.
References
National Center for Biotechnology Information: U.S. National Library of Medicine: National Institutes of Health. Clinical Holistic Medicine: Holistic Rehabilitation. (2005, April 5). (2020, June 4).
The Well by Northwell. 5 Holistic Therapy Techniques You Should Try Today. (Accessed 2020, June 4).
Medline Plus: Trusted Health Information for You. Complementary and Integrative Medicine (Also Called CAM). (Accessed 2020, June 4).
U.S. Department of Health and Human Services: National Center for Complementary and Integrative Medicine. Massage Therapy: What You Need To Know. (Accessed 2020, June 4).
Minnesota School of Cosmetology (MSC). What is Holistic Massage Therapy? (2019, November 1). (2020, June 4).
National Cancer Institute: NCI Dictionary of Cancer Terms. Medical Nutrition Therapy. (Accessed 2020, June 4).
National Center for Biotechnology Information: U.S. National Library of Medicine: National Institutes of Health. New Approaches to Nutritional Therapy. (2010, December). (2020, June 4).
National Library of Medicine: National Center for Biotechnology Information. The Importance of Nutrition in Aiding Recovery From Substance Use Disorders: A Review. (2017, October 1). (2020, June 4).
U.S. Department of Health and Human Services: National Center for Complementary and Integrative Health. 8 Things to Know About Meditation for Health. (Accessed 2020, June 4).
National Center for Biotechnology Information: U.S. National Library of Medicine: National Institutes of Health. Meditation: Process and Effects. (2015, September). (2020, June 4).
National library of Medicine: National Center for Biotechnology Information. Effect of Short-Term Practice Pranayamic Breathing Exercise on Cognition, Anxiety, General Well Being and Heart Rate Variability. (2013, October 2013). (2020, June 4).
Harvard Health Publishing: Harvard Medical School: Trusted Advice for a Healthier Life. Relaxation Techniques: Breath Control Helps Quell Errant Stress Response. (2015, January) (2020, June 4).
U.S. Department of Health and Human Services: National Center for Complementary and Integrative Health. Yoga: What You Need To Know. (Accessed 2020, June 4).
Medline Plus: Trusted Health Information for You. Yoga for Health. (Accessed 2020, June 4).
U.S. Department of Health & Human Services: SAMHSA: Substance Abuse and Mental Health Services Administration. Yoga: A Holistic Approach to Substance Use Disorder Recovery. (2019, December 17). (2020, June 4).
Medical News Today. Everything You Need to Know About Reiki. (2017, September 6). (2020, June 4).
National Center for Biotechnology Information: U.S. National Library of Medicine: National Institutes of Health. Meditation, Prayer and Spiritual Healing: The Evidence. (2005). (2020, June 4).
National Center for Biotechnology Information: U.S. National Library of Medicine: National Institutes of Health. A Consideration of the Perspectives of Healing Practitioners on Research into Energy Healing. (2015, November 1). (2020, June 4).
National Center for Biotechnology Information: U.S. National Library of Medicine: National Institutes of Health. Recovery Based on Spirituality in Substances Abusers in Iran. (2014, July 29). (2020, June 4).
National Center for Biotechnology Information. Chapter 6 — Brief Humanistic and Existential Therapies. (Accessed 2020, June 4).
English, William R. Working With Families Affected by Substance Abuse. (2000). (Accessed 2020, June 4).
National Center for Biotechnology Information: U.S. National Library of Medicine: National Institutes of Health. Keeping Families Engaged: The Effects of Home-Based Family Therapy Enhanced With Experiential Activities. (2009, December 14). (2020, June 4).
National Center for Biotechnology Information: U.S. National Library of Medicine: National Institutes of Health. More Than Just A Break From Treatment: How Substance Use Disorder Patients Experience The Stable Environment in Horse-Assisted Therapy. (2010, October 6). (2020, June 4).
National Center for Biotechnology Information: U.S. National Library of Medicine: National Institutes of Health.