Does My Health Insurance Cover My Addiction Treatment?
At St. John's Recovery Place, we believe that anyone who needs addiction treatment should have access to quality, compassionate care that will lead to recovery. Paying for drug or alcohol rehab, with or without insurance, can be overwhelming to face, but the short-term cost that you face upfront is quite small in comparison to the lifelong benefit that comes from investing in your recovery.
To find out if drug or alcohol rehab is covered by your insurance, click the "Verify Insurance" button below to fill out a quick and easy insurance verification form and we'll immediately begin working out the details of your treatment with your insurance provider.
Even if you don't have drug or alcohol rehab insurance, or you're worried that your insurance will not cover treatment at St John's Recovery Place, we welcome you to give us a call. Our admissions team has worked with many different insurance companies over the years and we have a deep understanding of self-pay options that may make drug or alcohol rehab affordable. If we can't help you secure treatment at SJRP, we'll help you find other rehab options without insurance for treatment that is right for you or your loved one. We believe that everyone who needs treatment should have access to safe, quality care with, or without, insurance coverage.
We Accept Most Major Insurance Plans
St John's Recovery Place is in-network with most major insurance providers. Many health insurance plans provide coverage for alcohol and drug addiction treatment. The recent passage of the Affordable Care Act has made access to addiction treatment more affordable and possible for many Americans. Drug and alcohol rehab insurance coverage options vary by plan and policy so it's best to check with your insurance provider or the rehab center that you're interested in attending before you make a commitment.
Please feel free to reach out to our admissions team to learn more about your insurance coverage and the potential out of pocket costs associated with substance use disorder treatment for yourself or a loved one. We'll verify your drug rehab insurance coverage and provide you with an estimate of your financial responsibility after your insurance pays their portion – many are delighted to find that their insurance covers all, or nearly all, of their treatment costs and there is very little out of pocket expense.
What Kind of Addiction Treatment Programs Does Insurance Cover?
Alcohol and drug rehab insurance coverage includes support for a wide range of treatment programs with a focus on helping clients overcome addiction to drugs or alcohol and underlying behavioral or mental health conditions. Depending on the individual details of your insurance plan, drug and alcohol rehab insurance may cover:
Outpatient rehab
Dual diagnosis treatment for co-occurring mental health conditions
St. John's Recovery Place, a Central Florida drug and alcohol treatment center, works closely with many major health insurance providers including Humana, BCBS, Aetna and Florida Health Care Plans, to offer clients the best addiction treatment at a very affordable cost. Your rehab insurance may pay for many of the services provided at our Florida medical detox and residential drug and alcohol rehab center. Find out if your insurance covers treatment at St John's recovery Place by calling 833-397-3422 to speak with our admissions team.
Health insurance was not easily obtained by many prior to the Affordable Care Act. Many considered health insurance coverage a "luxury" that only the rich or well-off could afford. Those with lower salaries or on a strict budget could not afford the expensive costs of health care coverage prior to the passage of the Affordable Care Act in 2014. As a result, many would do their best to save for potential health problems and would pay for treatments as they could. Rarely would the lower class or even the middle class receive preventative care or routine check-ups. Addiction to drugs or alcohol would often go untreated for many years for those without insurance – the thought of going to rehab was just too expensive to even consider.
With the 2014 passage of the Affordable Care Act, rehab insurance coverage became more prominent in society as 86% of American's were finally covered by health insurance, many for the very first time in their adult lives. Not only was insurance that covers rehab finally available to the average American, coverage for essential care, mental illness, and various other health problems was also available to these individuals and families, and all at an affordable price. Finally, Americans could receive the Florida drug and alcohol treatment protocols that they needed.
Types of Drug & Alcohol Rehab Insurance Coverage
There are two types of insurance coverage for drug and alcohol rehab: HMO plans and PPO plans. Under each of these coverage types treatment for addiction to drugs or alcohol may be covered by your health insurance provider. To better understand the difference between an HMO plan and a PPO plan, consider the following:
HMO Plans are the Most Affordable Types of Rehab Insurance Coverage. Also called a Health Maintenance Organization, the HMO plans typically pair the patient with a primary care physician and require that physician to provide a referral to see a specialist or physician that is outside of the HMO Plan network. If you do not intend to see out of network specialists, HMO plans can offer an affordable drug or alcohol rehab insurance coverage option with minimal flexibility.
PPO Plans are the Most Flexible Types of Rehab Insurance Coverage. Also called a Preferred Provider Organization, the PPO plans typically provide greater flexibility to see specialists and physicians in-network and out-of-network without a referral. If you intend to seek a diverse network of specialists outside your network, PPO plans can offer the flexibility you need in drug rehab insurance coverage but you may pay a higher premium and higher deductibles.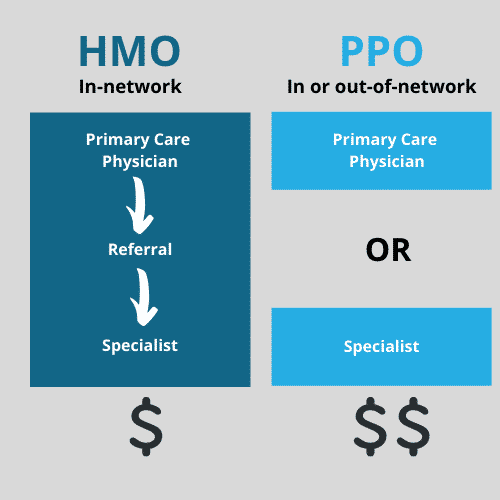 Types of Addictions Covered by Insurance
Regulations under the Affordable Care Act state that insurance providers that offer plans as part of the health insurance marketplace must provide minimum essential coverage in 10 health categories. Addiction treatment is an essential coverage under this law. Additionally, many insurance providers follow similar guidance in providing minimum essential coverage for addiction even though they are not part of the health insurance marketplace.
While most insurance companies now provide at least some form of coverage for addiction to drugs or alcohol, most do not specify a type of addiction that they treat. Therefore, addiction to heroin or Xanax or alcohol or any other substance is generally treated as a covered benefit regardless of the "type" of drug that is used. If the insurance provider considers addiction treatment a covered policy benefit, then any and all types of drug or alcohol addiction are considered "covered benefits."
Health insurance for drug rehab aims to keep the process of approving/denying claims simple. Therefore they will cover all drugs that cause addiction or none because they do not cover drug addiction at all. If an addiction care benefit is offered, the insurance coverage will provide a benefit for substance use disorder treatment regardless of the type of substance that was used to cause the addiction.
Types of Rehab Centers Covered by Health Insurance
Rehab insurance coverage is based on the agreement that the insurance provider has made with the drug and alcohol rehab center. Some addiction treatment programs have stronger ties with insurance providers and build stronger relationships with them than others. There are thousands of treatment centers in the United States to choose from when it comes to seeking help for addiction to drugs or alcohol. Make sure you choose a rehab center that works with insurance on a regular basis and can get you the most value from the coverage you have. SJRP is one of several alcohol and drug rehab centers in Central Florida that has developed strong working relationships with most of the major insurance companies and can provide you with the treatment you deserve. We'll navigate the insurance process with you, handling all claims and processing your coverage benefits for the duration of your stay.
Drug and alcohol rehab insurance covers the following forms of addiction treatment:
Outpatient Detox Programs
Partial Hospitalization Programs (PHP)
Intensive Outpatient Programs (IOP)
Outpatient Rehab Programs
If you have questions about the type of insurance that is accepted at SJRP, or you have individual questions about your policy coverage for drug or alcohol rehab, give our admissions department a call. We're happy to help you understand your insurance coverage and the appropriate levels of care that are available to you or your loved one under your policy. Call our admissions team at 833-397-3422 to learn more about your drug or alcohol rehab options.
Each insurance policy is different. Some may provide for a full continuum of care, offering coverage for inpatient detox, residential treatment, and outpatient counseling and therapy. Others may only provide limited coverage for residential detox or they may limit the amount of time that can be spent in rehab. Unfortunately, insurance providers often dictate the length of stay in treatment more than the healthcare provider does.
Questions About Drug & Alcohol Rehab Insurance
The Affordable Care Act provides detailed coverage for mental health conditions in addition to the physical health coverages that are offered. Plans under the Affordable Care Act are required to provide the same level of care for mental illness as they would for any physical illness or condition. For example, if a plan provides coverage for a physician visit that costs $25 for a hearing problem, the same plan must also provide coverage for a physician visit that costs $25 for anxiety or depression. Level of care, and cost of care must be the same under both physical and mental health conditions.
Provisions that represent parity for mental and physical health apply to insurance programs offered through the Health Insurance Marketplace but also those provided through employers, Medicaid, and CHIP. According to the American Psychological Association, the federal parity law requires insurance companies to treat mental health, behavioral health, and substance use disorder the same, or better, than they do physical ailments under standard medical or surgical coverage.  To better understand the Paul Wellstone and Pete Domenici Mental Health Parity and Addiction Equity Act, consider the following:
The law does not require insurers to provide mental health coverage, but if they do offer coverage, it must not be more restrictive or expensive than physical health benefits under the same plan.
The law does not preclude insurers from excluding coverage for certain diagnoses, mental or physical. If you're unsure about a diagnosis or the coverage, ask your insurance company.
The law requires co-pays for mental healthcare or SUD treatment to be equal to or less than "MOST" not "ALL" of the related copays for medical/surgical services under your plan.
The law does allow plans to dictate reviews of care to ensure treatment is "Medically Necessary," but if your insurance company terminates your care much sooner than your mental health provider thinks is appropriate, a violation of the parity law may be evident.
Any deductibles that you have will apply to both your mental and physical health insurance benefits coverage. You should not have separate deductibles for each.
Various forms of medication are often used in drug or alcohol detox and as part of the ongoing maintenance of addiction to harmful substances. Medication maintenance programs are often a participating part of the full continuum of care when receiving treatment for addiction. They are designed to help those who cannot function normally without drugs or alcohol as a result of the distinct chemical changes that have taken place within the brain. These medications often balance out or counteract chemical imbalances to minimize risk of relapse, especially in early recovery.
Maintenance medications such as Naloxone, Suboxone, Subutex or Buprenorphine, though highly effective in helping to prevent withdrawal, minimize cravings, and reduce relapse, can be expensive. Most insurance plans that cover drug rehab also provide coverage for maintenance medications that may be prescribed during the course of treatment. The amount of coverage or the underlying co-pays or costs associated with medication maintenance programs will vary by insurance provider and individual policy.
If you're unsure about your health insurance coverage benefits or how they may apply to drug or alcohol rehab, it is important to ask very detailed questions upfront, before you or a loved one begins a particular type of treatment or medication maintenance program. At St. John's Recovery Place, we work hard to verify coverage and copayments in advance of starting a particular form of therapy or medical care so that clients are not faced with unexpected expenses in recovery. It's very common for some programs to provide extensive coverage for medications and others to provide very limited services and care.
At St. John's Recovery Place, we work hard to provide clients with a detailed cost breakdown that helps them to visualize where their finances are applied to their care. The type of treatment you receive affects the total monetary cost of sobriety – great, top-quality care is priceless! But, that doesn't mean we put a price on treatment that nobody can afford. Our goal is to help you see that no matter what the monetary cost of addiction treatment is, the price of not getting help is much more significant.
With insurance, drug rehab typically costs much less than it would without insurance. Costs vary widely based on the type of treatment provided, the severity of the addiction being treated, and the coverage level of the insurance plan. Even with insurance, drug rehab costs can vary based on:
Location
Length of the treatment program
What's included in the treatment
Level of care provided (inpatient or outpatient)
Individual medications prescribed
Insurance plans generally minimize the out of pocket expenses associated with treatment for substance use disorders. A client with health insurance coverage may pay nothing or very little out of pocket if they have already met their deductible for the year or are close.
Below is a look at the current average costs of addiction treatment without insurance:
Inpatient Drug Detox: $250 – $1000 per day
Inpatient Treatment: $5000 – $80,000 per month
Outpatient Treatment: $1000 – $10,000 per month
Don't let these figures fool you or make you instantly think "WOW, I could never afford that!" Treatment costs at St. John's Recovery Place are significantly lower than these figures, especially for clients that have health insurance. Instead of asking yourself whether you can afford treatment, consider asking yourself this: Can I afford NOT to get treatment?
The estimated cost of not getting treatment for addiction is significantly higher than the cost of treatment ever could be. Not only are you risking your life each time you use drugs or alcohol, not getting treatment could cost you in the following ways:
Money Spent on Substances of Abuse: A drinking habit that costs just $5 per day will cost upwards of $1825 per year. That's IF you do not get in trouble as a result of your drinking. A DUI could cost you another $10,000 or more. Drinking on the job could cost you your entire year's salary if you get fired. A ten-year addiction to alcohol could cost upwards of $20,000 or more. If you're using drugs, the daily cost is most likely much higher than $5 and, the potential long-term costs are also significantly more.
Money Spent on Health Care: Addiction to drugs or alcohol is commonly known to cause problems with internal organs and may cause infections, disease, or other conditions that require medical care. According to the National Library of Medicine, the lifetime cost of treatment for someone infected with Hepatitis-C is $64,490, which is significantly higher than the cost of even the most lavish treatment programs.
Money Lost as a Result of Lost Productivity: Addiction causes a distinct loss in productivity that cannot be overlooked. According to the Office of National Drug Control Policy, addiction results in a $72.6B in lost workplace productivity annually.
Check Your Insurance Coverage for Drug or Alcohol Rehab
Health insurance benefits were designed to make healthcare affordable to the average consumer. If you have health insurance, and you or someone you love is suffering from addiction to drugs or alcohol, you should not be ashamed or afraid to ask for help. Call SJRP at 833-397-3422 to speak with our admissions department about your needs.
Let's check your insurance coverage and find out what treatment options are available to help you, or someone you love, get well. With drug and alcohol rehab insurance coverage, many policyholders find that treatment at SJRP is FREE or much more affordable than they previously expected. If we can't help you, we'll connect you with a provider that can.